What are Cataracts
Cataract is derived from a Latin word meaning waterfall. When a cataract develops, the vision is blurry as if looking through a waterfall. Cataracts are a clouding of the crystalline lenses. They are part of the natural aging process and almost everyone by their mid-sixties will have some form of a cataract. It is not unusual for people to show early signs of a cataract in their forties and fifties. Usually cataracts take years to form, although sometimes they will develop rapidly. Contributing factors leading to cataract formation include trauma, diabetes, genetics, smoking, medications such as steroids, UV exposure, and chronic inflammation. Cataracts do not worsen by overusing the eyes or too much reading.
Cataracts slowly cause the vision to become blurry and dim. Some people see a halo or glare around lights, especially when driving at night. Usually cataracts are not visible to the naked eye and require a slit lamp for detection. If the cataract is advanced and white, it may be visible to an observer without special equipment. Cataracts can adversely affect the vision in both eyes at the same time or they can develop at different rates.
---
Cataract Surgery
The effective treatment for cataracts is surgical removal of the lens. The surgery is performed when the cataract is affecting one's ability to drive, read, or perform other activities of daily living. Cataract surgery is one of the most effective and safest operations performed today. Cataract surgery is performed with an ultrasound instrument, called phacoemulsification. An instrument is placed inside of the eye that vibrates at high speed to remove the lens. A lens implant is placed in the area of the original lens. The lens implant is a permanent replacement of the natural lens. It is a common misperception that cataract surgery is performed with a laser. However, there are exciting laser treatments that are being developed for the removal of cataracts.

---
Intraocular Lens Options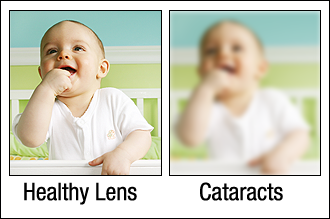 Dr. Houlder will discuss with you the different types of lens implants that are available and what will work best for you. Measurements (A scan and keratometry readings) will be taken on your eye prior to the surgery to determine the power of the lens implant. Several options are available to help you minimize—or even eliminate—your need for glasses after cataract surgery.
For instance, you may decide to have lens implants that will allow you to see well at a distance, and you can wear reading glasses when you want to see up close. Another option is to select the lens implant strength to see clearly at a distance for one eye, and a different strength, the one for up close, for your other eye. This is called monovision. Monovision works well for most people, although some people have trouble with depth perception and blurry vision. Recently, several types of bifocal and multifocal implants have been developed. These lenses allow you to see at a range of focal points, often eliminating the need for glasses.
---
After Cataract Surgery
Most people do very well after cataract surgery and are able to return to their normal lifestyle in a few days. It is very important to not rub your eye after the surgery. Medication drops will be used for several weeks after the surgery. If you require a change in your glasses prescription, it will be done one month after the surgery.
Cataracts do not recur. It is common for a membrane to develop in the area where the cataract surgery was done. If a membrane develops, a Yag laser procedure may be recommended. The "capsular haze" occurs on the posterior capsule behind the lens implant. The vision may seem as though the cataract has reoccurred. This low risk laser procedure is performed in the office and only takes a few minutes.